The Big Year
Theatrical Release:
October 14, 2011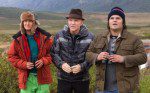 Synopsis
Steve Martin, Jack Black and Owen Wilson are at a crossroads — one is experiencing a mid-life crisis, another a late-life crisis, and the third, a far from ordinary no-life crisis. From David Frankel, the director of The Devil Wears Prada and Marley & Me, comes a sophisticated comedy about three friendly rivals who, tired of being ruled by obligations and responsibilities, dedicate a year of their lives to following their dreams. Their big year takes them on a cross-country journey of wild and life-changing adventures
Dove Review
This movie is, for all intents and purposes, a morality tale. It's too bad the content in the language department crosses our acceptable level because it is a charming movie in various ways. It features three men who want to win "The Big Year", the highest total points for either seeing or hearing rare birds from all across the United States and as far away as Alaska, and all this in one year's time.
Brad Harris (Jack Black) is a thirty-six-year-old divorced man who hates his job and who doesn't get along with his father (Brian Dennehy). His dad believes Brad is wasting his time running after birds but after having a close call, his father sees things differently and the two of them get closer together by film's end. This is one of the nice themes of the film. Brad is lonely but meets a fellow bird watcher named Ellie (Rashida Jones). She has a boyfriend but will the obvious chemistry she has with Brad change all that? The film features a few humorous moments such as when Brad, trembling with fear after getting out of a helicopter which almost struck a mountain side, gets on his knees and kisses the ground and states he is so happy to be alive.
Brad becomes friends with Stu Preissler (Steve Martin), who wants to retire and win the Big Year. Yet the birth of his new grandson, who is named after him, and the fact he misses his wife when he travels, makes him start rethinking his priorities. Owen Wilson plays Kenny Bostick, the year's previous winner. Kenny wants to shatter his own point's record but unfortunately begins to neglect his wife. His wife Jessica (Rosamund Pike) is desperate to become a mother and is taking fertility treatments. At one point near the end of the film Kenny races to the hospital door to visit her but receives a phone call that a rare species bird, one which almost certainly will guarantee his victory, is a distance away. Kenny has to decide if he will walk through the hospital door or board a plane to go see the rare bird. We won't give it away but it is interesting the way the year ends and who ends up with what.
The themes of this movie include making family a priority and finding happiness in ways which might have been unexpected. Unfortunately, the language sinks this one and prevents us from awarding our Dove "Family-Approved" Seal to it.
Info
Company:
20th Century Fox
Writer:
Howard Franklin & Mark Obmascik
Reviewer:
Edwin L. Carpenter