Rock n Learn: Sight Words
DVD Release:
September 13, 2011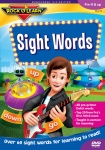 Synopsis
Sight words are the most frequently used words in the English language, and this DVD helps students read them automatically. As a supplement to phonics-based strategies, "Rock 'N Learn Sight Words" boosts reading and spelling skills. Children learn over 60 sight words through engaging characters, entertaining songs, and fun practice. Words are presented in context to help build reading comprehension. This DVD features all pre-primer "Dolch" words, the top 20 from Fry's, and more. A bonus section helps kids focus on the shapes of words and improve spelling skills. This DVD is for levels Pre-K and up.
Dove Review
Entertaining songs, rhythmic repetition, colorful animation and engaging characters are highlights in this colorful jaunt through the English language. Primary sight words are the key to building successful readers and this DVD allows children to learn them automatically. Quirky robots and catchy techno music tunes draw young viewers into reading and the mastery of over sixty common sight words.
Encouragement is highlighted in the learning process as the theme of "the more you read the better you get" is woven throughout. The characters are cast as young teens with electric guitars and an animated music video backdrop. Friendship and learning go hand-in-hand as the characters dance and bop, seeking to conquer sight word mastery and reading comprehension.
We found this an engaging new twist in the teaching of reading skills that will bring youngsters one step further in their learning process. Some parents may not care for the techno music sounds this DVD features but we are happy to approve this film for all ages.
Info
Industry Rating:
Not Rated