The Way
Theatrical Release:
October 7, 2011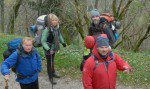 Synopsis
Tom (Martin Sheen), an American doctor who comes to St. Jean Pied de Port, France to collect the remains of his adult son, killed in the Pyrenees in a storm while walking The Camino de Santiago, also known as The Way of Saint James. Driven by his profound sadness and desire to understand his son better, Tom decides to embark on the historical pilgrimage, leaving his "California bubble life" behind.
Armed with his son's backpack and guidebook, Tom navigate the 800 km pilgrimage from the French Pyrenees, to Santiago de Compostela in the north west of Spain, but soon discovers that he will not be alone on this journey.
While walking The Camino, Tom meets other pilgrims from around the world, all broken and looking for greater meaning in their lives: a Dutchman (Yorick van Wageningen) a Canadian (Deborah Kara Unger) and an Irish writer (James Nesbitt) who is suffering from a bout of "writer's block."
From the hardship experienced along "The Way" this unlikely quartet of misfits create an everlasting bond and Tom begins to learn what it means to be a citizen of the world again, and discovers the difference between "The life we live and the life we choose". The Way was filmed entirely in Spain and France along the actual Camino de Santiago.
Dove Review
This film contains stirring scenes and moments which run the range from sorrow to exuberance. When Martin Sheen's character, Tom, has to identify the body of his son Daniel (Emilio Estevez), who died in an accident in a storm in the Pyrenees, the emotion and pain he conveys will be shared by many audience members. Daniel died while walking The Camino de Santiago, which is also referred to as The Way of Saint James. Daniel is cremated and Tom decides to take his son's ashes and to continue the walk, scattering his son's ashes as he goes. He wants his son to "complete" his journey.
The movie has its spiritual moments, such as when a woman named Sarah (Deborah Kara Unger) joins Tom in the walk and opens up to him about an abortion she had and how she sometimes sees her child. It is obvious when she claims she wants to lay her cigarettes down when they reach the church her pain stems from the abortion decision and is what she really is dealing with. In another scene, a character named Jack (James Nesbitt) who acts like he doesn't care about religion has an experience at the church and the tears flow as he kneels. The other character joining Tom, Sarah and Jack on the journey is Joost (Yorick van Wageningen) who claims he is taking the walk for exercise and to lose weight. We later learn his wife refuses to make love to him because of his weight. Anyone who has ever encountered rejection or teasing for physical reasons will sympathize. Joost is a kind man who talks a lot but is well liked by everyone.
Regrettably, the film contains the use of strong language in addition to scenes of the smoking of marijuana and a resultant "high" which is almost celebrated in the movie. For these reasons, we are unable to award our Dove "Family-Approved" Seal to the picture.
Info
Company:
ARC Entertainment
Reviewer:
Edwin L. Carpenter