The Three Musketeers 2011
Theatrical Release:
October 21, 2011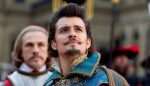 Synopsis
The hot-headed young D'Artagnan (Logan Lerman) joins forces with three rogue Musketeers (Matthew MacFadyen, Luke Evans and Ray Stevenson) in this reboot of Alexandre Dumas' story. They must stop the evil Richlieu (Christoph Waltz) and face off with Buckingham (Orlando Bloom) and the treacherous Milady (Milla Jovovich). The action adventure is given a state of the art update in 3-D.
Dove Review
In some ways this movie reminds me more of "Indiana Jones" than of the novel it is based on. There are almost non-stop action sequences from the beginning, and even a scene of a deluge of water chasing down one character to overtake him, much like the "Indiana Jones and Temple of Doom" movie. One character ducks flying arsenal as she attempts to navigate a booby-trapped infested place she and some others are exploring. This movie is not to be mistaken for a literate or serious drama. It contains a lot of cleavage and sword fights and undoubtedly was made for a contemporary audience. For instance, one character disses another character's clothes, saying they are "retro". I doubt if this word was actually used during the time the story is supposed to have taken place in the 17th century.
The actors who play the musketeers all fit the roles well although I found Logan Lerman ("Percy Jackson") a bit young to be playing the dashing D'Artagnan. Still, he is excellent with a sword and one of the lead female characters in the film takes a strong liking to him. Orlando Bloom really takes a departure from the heroic figure he generally plays and gives us an underhanded and sly villain, the Duke of Buckingham.
The movie, to its credit, contains some nice themes such as betrayal and villainy do not pay, and that loyalty to a cause is a thing of valor. Unfortunately, there is the cursing of a character, a "da*n you" comment, and off-screen sex which prevents us from awarding our Dove Seal to this picture.
Info
Company:
Summit Entertainment
Writer:
Alex Litvak & Andrew Davies
Reviewer:
Edwin L. Carpenter