Adventures in Values: Vol 1, 2, 3
DVD Release:
February 1, 2012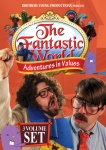 Synopsis
Laugh along with brothers Bill and Charles in this complete set of Fantastic World adventures! Using humorous storytelling, this series makes Bible lessons more memorable for kids living in today's media-rich culture. Short episodes explore what it means to have patience, compassion, and courage, as well as the importance of telling the truth and encouraging others. Each volume teaches specific moral values through relevant Bible stories and fun activities.
Volume 1
When We Lie Others Cry: A Lesson in Honesty
Dundilly You: A Lesson in Compassion
Keep the Plus Sign in Mind: A Lesson in Encouragement
Patience Pays: A Lesson in Waiting
Never Fear God Is Near: A Lesson in Courage
Volume 2
Handle with Care: A Lesson in Gentleness
Make Time to Be Kind: A Lesson in Kindness
Friends First Self Second: A Lesson in Selflessness
Get Sticky with It: A Lesson in Perseverance
Forgiveness Is Freedom: A Lesson in Letting Go of Anger
Volume 3
Here's a Hint, Be Content: A Lesson in Bullying
Rules, Rules, Rules: A Lesson in Obedience
Dove Review
These guys, Charles and Bill, know how to have fun. Their zany personalities make for a delightful DVD which kids and the young in heart will thoroughly enjoy. There are three DVDs with 12 episodes, the last two on the third disc being a bit longer than the other episodes. Charles and Bill teach important moral lessons from the Bible and they do it in their larger-than-life personas.
Volume one deals with the important themes of patience, honesty, encouragement, courage and compassion. Volume two of the series deals with topics such as gentleness, kindness, selflessness, perseverance and forgiveness. Finally, volume three deals with contentment, and rules, rules, rules!
The two brothers have a good time on screen and end each episode by singing a "good-bye" song and they always briefly shake their rears at the screen for the "bye" part of the song! Other characters include Cranky, a talking cactus, and Face, a talking clock. Kids will enjoy scenes such as the one in which Charles makes a helmet to fight against a "monster" (actually, a very "small" monster as it turns out). This is really a wholesome DVD which features important life lessons and biblical texts as well as the reminder that "Jesus loves you!" We gladly recommend it for all ages. This one might convince you that you don't have to be sane to have a good time!