Tonya Larson: Fit Family Fun Circuit
DVD Release:
January 2, 2012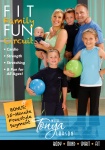 Synopsis
"Fit Family Fun Circuit" is a great way to have fun with your kids while getting active as a family. This workout is also an excellent low-cost option as a physical fitness class for homeschoolers or for those days when it's too hot, too cold, or too rainy to go outside. Tonya Larson uses her background as a mother of 3 busy boys, a military wife, and fitness expert, to develop an exercise routine that appeals to all ages and fitness levels.
Cardio Circuit: Marching, stretching, kicking, jumping, fun and dancing!
Strength Circuit: Utilizing a ball for resistance and balance, Tonya creates fun and simple exercises for; arms, chest, legs, and abs.
Cool-Down Stretch: A calming and relaxing segment of stretching, for the whole body, that both kids and adults will enjoy.
Exercise Band Circuit: Tonya offers an additional strength-training routine using exercise bands.
Freestyle Exercise: In an effort to allow time for a family or class to focus on specific exercises of their choice, or to develop their own fitness routine, Tonya included this unique Freestyle Exercise option. It has 3 new upbeat songs to workout to and a 15-minute timer on screen.
Dove Review
The "Tonya Larson: Fit Family Fun Circuit" DVD will bring the family together for a fun activity that will get every member into shape. She leads her family along with yours through this enjoyable exercise program that will help improve everyone's health and keep them active. It is an easy work-out that will encourage your entire family to excerise and to have fun at the same time.
We award the Dove "Family-Approved" Seal for all ages.