The Rum Diary
Theatrical Release:
October 28, 2011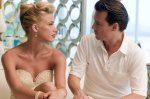 Synopsis
"The Rum Diary" tells the increasingly unhinged story of itinerant journalist Paul Kemp. Tiring of the noise and madness of New York and the crushing conventions of late Eisenhower-era America, Kemp travels to the pristine island of Puerto Rico to write for a local newspaper, The San Juan Star, run by downtrodden editor Lotterman. Adopting the rum-soaked life of the island, Paul soon becomes obsessed with Chenault, the wildly attractive Connecticut-born fiancée of Sanderson. When Kemp is recruited by Sanderson to write favorably about his latest unsavory scheme, the journalist is presented with a choice: to use his words for the corrupt businessmen's financial benefit, or use them to take the b*stards down.
Dove Review
Paul Kemp (Johnny Depp) is an American who winds up living far from his homeland. He's a writer, and he says he wants to find his "voice" in writing and to write with a purpose. He winds up working for a newspaper in San Juan in the sixties. However, Paul finds drinking and women, and not necessarily in that order, to be a distraction and he doesn't do much to pursue his original dreams. He is a novelist who has remained unpublished.
A public relations man named Hal Sanderson (Aaron Eckhart) gives Paul an opportunity to work with him but soon Paul finds himself attracted to Sanderson's girlfriend, Chenault ((Amber Heard). She loves to party and Paul joins her, boozing it up and becoming even more distracted from his original purpose in writing with a "voice". However, when Paul sees an abandoned girl living in a car, and how Sanderson treats the poor, he decides to write about the corruption he sees. Kemp notes that "Human beings are the only creatures on earth that claim a God and the only living thing that behaves like it hasn't got one."
Depp, the modern "man of a thousand faces" creates another interesting character to add to his legion of roles. The film features a positive theme as we see Kemp change and remember why he writes. However, the content in the film is very strong, including the language, sex, violence, drugs and nudity categories. The only content listing under a rating of three is the "other" category which receives a rating of two. For these reasons, we regrettably cannot award this movie our Dove "Family-Approved" Seal.
Info
Writer:
Bruce Robinson & Hunter S. Thompson
Reviewer:
Edwin L. Carpenter