American Heritage Collection (7 DVD Set)
DVD Release:
June 7, 2011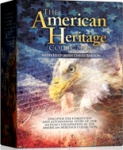 Synopsis
Explore America's godly heritage and the Bible's profound influence on American life and culture over the past four centuries with this eye-opening series from Christian historian David Barton. Including a private tour of the Capitol that reveals the spiritual significance of the building's statues and artwork, this set also discusses the principles for a successful government and how Christians can act upon their convictions to impact our nation today. Over 10 hours long, this set from WallBuilders includes seven volumes.
Volume List:
America's Godly Heritage
The Influence of the Bible
Keys to Good Government & Foundations of American Government
Four Centuries of American Education
The Role of Pastors and Christians in Civil Government
A Spiritual Tour of the U.S. Capitol
Setting the Record Straight: American History in Black and White
Dove Review
What an awesome collection of seven tremendous DVDs in one set! This series educates every viewer on the morals and principles which guided our forefathers as they founded this nation and signed the Declaration of Independence. That many of them were Christan cannot be denied as host David Barton quotes them and it just might surprise some people that our founding fathers hoped that these principles would always guide our nation.
Volume one, "America's Godly Heritage" is an excellent primer for those who want to know more about what was intended for America by the Founders and what can be done to return America to its original guiding philosophy.
In volume two, "The Influence of the Bible", David Barton explains a letter from Benjamin Franklin which reveals his belief that whenever God is consulted, providence comes. We also learn that the founders and leaders of the American Bible Society were educators, attorneys, and not just ministers alone. Noah Webster and the influence of his dictionary and the Bible verses he used as examples are explored here. We hear of John Quincy Adams' letters to his son about how the Bible, when applied to life situations, could be powerful.
Volume three contains two programs, "Keys to Good Government" and "Foundations of American Government". This is a powerful and compelling DVD which features a lot of wonderful information. The first part, "Keys to Good Government", starts off with images of the White House, the Statue of Liberty and amber waves of grain. The song "America" is played along with these mighty images and soon we see a photo of a classroom with students bowing their heads in prayer from a bygone era. We learn that the founding fathers intended biblical principles to always be the nation's guide.
In the second program, "Foundations of American Government", we are told of a lawyer who admitted to never having read the Constitution of the United States while in college. Barton throws the focus on the issue of "Separation of Church and State" and shows that our founders intended there never to be one denomination in our country, but they certainly wanted the Bible's continual influence in the country.
Volume four is titled, "Four Centuries of American Education". The content of this video regarding our education system of the past amazed me. This is a very informative video regarding the morals and reasoning behind the education system in this country. I believe this to be a great learning tool for anyone and everyone when it comes to education. It just amazed me to learn that some of our top colleges, primary and secondary schools once were based on the morals in the Bible and the freedom to read the Great Book. This video is very interesting and will make viewers stop and analyze what is happening in our schools today.
Volume five is titled "The Role of Pastors and Christians in Civil Government". I highly recommend this video for: history classes, Sunday school, families, groups of people and individuals needing an education on this information, or a fresh dose of exactly what, why, and how our great country was founded. As President Woodrow Wilson stated, a nation must remember where it came from. Our roots are based in the Bible. Thomas Jefferson wanted ministers to have the same rights to speak as others in the country. Narrator David Barton tells us that Presidents Lincoln, McKinley, Truman, Hoover and others stated we were founded as a Christian nation. How sad that a current book is titled, "The Godless Constitution". Barton ends the program by urging evangelicals and believers to vote and to act on what they believe.
Volume six is titled "A Spiritual Tour of the U.S. Capitol". This DVD, as with all others in the series, is well worth watching. Its historical lessons are taught in the United States Capitol building as host and narrator David Barton shares the Christian faith of many of the figures he mentions. The images are grand as paintings and statues are featured of various signers of the Declaration of Independence. And these include names many will recognize.
In the beginning of the DVD a John Quincy Adams quote is used: "The Declaration of Independence laid the cornerstone of…government…on the precepts of Christianity." Barton states the spiritual heritage of the building is little known among many people.
In volume seven, the final volume, "Setting the Record Straight: American History in Black and White" we learn of the racial tensions of our past and the DVD features clips from the Civil Rights movements, as well as brief but graphic photographs of hung men due to the lynching of various crowds of racists.
This is an incredible collection of DVDs, with each volume standing out in its own way and focusing on an important topic which compares our past as a country to our present. We strongly recommend this DVD collection. Six out of seven volumes are approved for all ages. Only volume seven, with its topic of racism and its feature of a few graphic photos, is recommended for ages twelve plus. The entire collection is awarded five Doves, and that's our best rating.