The Savvy Cyber Kids at Home: The Defeat of the Cyber Bully (Illustrated)
Book Release:
October 1, 2011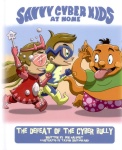 Synopsis
The adventures of CyberThunder (Tony) and Cyber Princess (Emma) continue in The Savvy Cyber Kids at Home: The Defeat of the Cyber Bully!
While playing an online game, Cyber Princess and CyberThunder encounter a cyber-bully. Throughout the book, Tony and Emma learn strategies on how to appropriately respond to a bully online
Like most important life lessons, teaching online safety begins in early childhood. The Savvy Cyber Kids are just the right playmates for preschool children and Emma and Tony speak their language.
Through traditional early childhood teaching tools, this colorful book reinforces the message of online safety with pictures and rhyme. This playful tool and the Savvy Cyber Kids friends teach our children how to appropriately respond to a cyber-bully before they start playing in the virtual world.
Dove Review
It seems like every day we hear about bullying in some fashion and the effects that this unkind behavior can have on our children. This book from the series "The Savvy Cyber Kids at Home" deals with Cyber bullying. The title relays what this book is about, "The Defeat of the Cyber Bully." We need to inform our children how to protect themselves when it comes to bullying whether in person or on the computer. Here is a wonderful tool that will teach them what to do if bullying happens to them or a friend online.
It is important to help children understand that they are empowered to take control of their own lives when Cyber bullying or any type of bullying happens to them. The answer is to report it to grown-ups. This charming and wonderfully illustrated book educates them on how to deal with bullying in their lives. We are proud to award this book The Dove "Family-Approved" Seal for all ages.
Info
Company:
Savvy Cyber Kids, Inc
Industry Rating:
Juvenile
Starring:
Illustrated by: Taylot Southerland