Wow! Wow! Wubbzy!: The Wubb Club
DVD Release:
January 3, 2012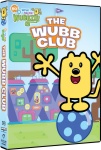 Synopsis
Everybody's favorite bendy-tailed buddy and his friends invite you to join Wuzzleburg's most fun club ever! In these seven popular episodes, Wubbzy, Widget and Walden build a crazy clubhouse, meet their new neighbor Daizy, and start a band called The Wuzzles! Your club membership entitles you to laughter and learning along with slippy-slide floors, rubber bouncy rooms and flower-shaped houses!  All of this and more is waiting for you in THE WUBB CLUB!
Dove Review
Wubbzy and his friends, Widget and Walden, frolic and play through several episodes of fun and laugher. Wubbzy invites his friends to join the Wubb Club he imagines inside a plain cardboard box. They believe bigger and better is needed for them to really have fun and set about to build a HUGE clubhouse, later realizing they are too busy to have any fun at all. Wubbzy reminds them they do not need bigger and better but only their imagination and friendship together. Daizy enters the Wubb Club when she moves into the neighborhood. Wubbzy soon realizes Daizy has a very different idea of what fun is; dolls and tea parties instead of rollicking in outside play with him. They work through their challenges and find what they DO have in common instead of what is different.
Each adventure with Wubbzy and his pals is colorful, playful and enjoyable with a lively musical backdrop to which youngsters may be found doing the "Wubbzy Wiggle" by the close of the film! Valuable lessons of creativity, imagination, friendship and thoughtfulness can be learned as time is spent with Wubbzy and his pals! We are happy to approve this bubbly animated film for all viewers.
Info
Company:
Anchor Bay Entertainment