Chuggington: Brewsters Little Helper
DVD Release:
February 14, 2012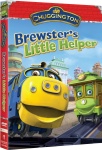 Synopsis
Honk your horns for this all-new collection showcasing young trainee, Brewster, as he discovers adventure and responsibility in Chuggington. In these six traintastic episodes, Brewster gets some unexpected help from Zephie, cleans up a mess in the recycling yard with Koko, does a sign-reading exercise with pal Wilson, and even meets his hero Action Chugger! Together Brewster and his friends learn valuable lessons about friendship, patience, following instructions, and completing daily tasks. Join the trainees as they ride the rails of life in Brewster's Little Helper!
Dove Review
Energy, friendship and fun abound in each delightful Chuggington adventure and "Brewster's Little Helper" is no exception! Zephie, a sweet young engine is frustrated because she cannot do everything Brewster and Koko are able to do. She decides on her own to become Brewster's helper, causing much consternation amongst those in the train yard. Each trainee learns the valuable lesson that everyone matters and each job is important- even if it seems insignificant. Another adventure finds Koko in charge of the recycling area for Irving who is methodical, measured and likes everything in his world neat and tidy. Irving is a bit reluctant to relinquish to young Koko, but allows him the privilege of being responsible for the day. Chaos and trouble ensues while Irving is gone. Mechanical and trainee errors soon compound to bring disastrous results for Koko. He works to right the wrong and restore Irving's confidence in him…even when it takes a great deal of effort and sacrifice.
Brewster, Koko and Zephie show kindness, encouragement and friendship to one another and respect to those training them. The little trainees are young with much to learn when they awake in Chuggington train yard. Dunbar and Irving teach these little trainees new skills daily with great patience and love for the individual little trains. This DVD provides wonderful entertainment and learning opportunities at each twist and turn of the rails. We are delighted to approve it for viewers of all ages! It definitely earns our Dove Seal.
Info
Company:
Anchor Bay Entertainment
Industry Rating:
Not Rated