Noddy Collectors Set
DVD Release:
September 1, 2009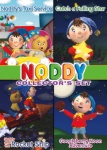 Synopsis
NODDY'S TAXI SERVICE
Noddy drives his taxi in Toy Town giving rides and running errands. The goblins always want Noddy's taxi business for themselves and play lots of tricks to try and get his wonderful car. Join Noddy and his friends Tessie Bear, Big Ears and Dinah Doll as they go on exciting and magical adventures with Noddy and his taxi. With over 60 minutes of content,Noddy's Taxi Service includes five "Say It With Noddy" segments that teach children popular words and phrases in Spanish, French, Russian, Mandarin and Swahili.
CATCH A FALLING STAR
Noddy, Tessie Bear and Martha Monkey are on a camping adventure in Toyland when they find a lost little star. They have to help their new little friend get back home and escape the Goblins. With some help from Mr. Sparks, Noddy and his friends make this an adventure to remember. With over 60 minutes of content, Catch a Falling Star includes five "Say It With Noddy" segments that teach children popular words and phrases in Spanish, French, Russian, Mandarin and Swahili.
NODDY AND THE ROCKET SHIP
Noddy and Master Tubby Bear decide to build a rocket ship! With some help from their friends Mr Sparks and Big-Ears, Noddy and Master Tubby Bear are soon soaring high above Toyland on an exciting adventure. Join Noddy and his friends in Toyland for over 60 minutes of fun! Also included are the popular "Say it with Noddy" segments that teach children words and phrases in five languages: Spanish, Russian, Swahili, Mandarin and French.
GOOGLEBERRY MOON ADVENTURE
Noddy is celebrating the rise of the great Googleberry Moon! It's a magical time which comes only once a year when Noddy and his Toy Town friends work together to harvest the delicious googleberry fruit! The memories bloom during a night that the gang will never forget! Join all of the residents of Toyland for over 60 minutes of fun! Includes five exciting "Say It With Noddy" segments that teach children popular words and phrases in Spanish, Russian and French.
Dove Review
Noddy is a great character for kids to learn from. He rides around in his own taxi, wants to do what is right and when he does make a mistake he makes up for it. The music is terrific; the stories contain morals and even teach kids foreign words from French to Spanish, to Russian to Swahili! This is one terrific DVD.
There are two discs with each disc containing ten episodes, a "Say it with Noddy' section which focuses on the foreign word of the episode, and a Noddy music video to boot! The ten episodes on disc one are as follows: 1. Noddy and the New Taxi 2. A Bike for Big Ears 3. Driving Miss Pink Cat 4. Noddy's Car Trouble 5. Noddy the Best Driver in the World. Then, on side two of disc one: 6. Noddy Through the Looking Glass 7. Googleberry Moon 8. Noddy and the Towering Flower 9. Noddy the Rainbow Chaser 10. Noddy's Clothes on the Loose.
On disc two the episodes are titled: 1. Noddy Builds A Rocket Ship 2. Too Many Noddies 3. The Flower Thief 4. The Out-of-Control Tower 5. The Great Goblin Giveaway. On side two of disc two: 6. Catch a Falling Star 7. The Great Goblin Switch 8. Noddy's Special Treat 9. Forgive Me Not 10. Noddy's Lucky Day. Some occasional magic or magic dust is used but it is all harmless in the end and the good guys always prevail. In fact, the good guys often use the magic and the bad guys, the Goblins, are defeated every time.
The episodes feature various adventures for Noddy who has competition for his taxi driving when the Goblins, Sly and Gobbo, start their own business and, at first, offer "free" driving services so as to take business away from Noddy. Their true intentions are found out by story's end. Other adventures include Noddy trying to repair Big Ears' bicycle after an accident but he adds changes that, for the most part, Big Ears does not want. In another delightful episode Miss Pink Cat offers Noddy free ice cream if he will only drive for her and no one else. Soon he is driving her everywhere but is too busy for an ice cream break! He has to figure out a way to go back to his life the way it was before, which was better than he realized at the time. In one very nice episode Noddy becomes angry at his car which leaves him for a while, driving alone without him. Later Noddy apologizes and the car forgives him so this is a nice moral lesson on the need to forgive others.
The two Goblins steal breakfast and various items including Noddy's clothes in one episode as they make the clothes move on their own with a spell so they can make Noddy appear "naughty". However, the Goblins always get caught and always pay the price for their misdeeds, usually by spending time in jail. One episode, "Forgive Me Not" is about the topic of forgiveness and it is centered on Noddy forgetting to invite Martha Monkey to his party and how she refuses to forgive him. Imagination is keenly used throughout. In one episode, "Googleberry Moon" once a year the moon turns red which causes googleberries to spring up on bushes and various places. The town people gather them, only to have the creepy Goblins steal them. But the Goblins are caught in the end. The stories are good to always show a reaping-what-you-have-sown philosophy.
In one delightful humorous scene the Goblins plot to steal the pot of gold from the end of the rainbow. "We will be smart!" says one not-too-smart Goblin. "You mean we will be rich!" says his friend, a bit miffed. The vivid colors of the animation, the delightful characters, and energetic music will keep kids happy as they enjoy each fantastic adventure and episode. And the DVDs promote team work and forgiveness. We are more than happy to award our Dove "Family-Approved" Seal to this DVD for kids of all ages.