The Adventures of Toby
DVD Release:
January 1, 2014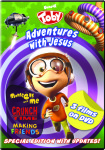 Synopsis
Featuring three action-packed biblical adventures! Trapped in his room with terrifying monsters, Toby escapes into his heart where he meets an amazing friend – Jesus. They go on crazy adventures together – calming storms, dashing back to the beginning of time to witness the creation of the world and landing in a Bible where pages sprout cereal-box trees! Monsters & Me helps kids conquer their fears, Making Friends shows them how perfectly they've been made, and Crunch Time explores the rewards of selflessness.
Filled with laughs, stunning animation and brimming with life-changing truths, your kids will want to watch the Adventures of Toby over and over again!
Dove Review
The Adventures of Toby are fun-filled mini-Bible lessons told through the eyes of young Toby. His mother is rarely around so his big sister is frequently Toby's sitter. When Toby can't quite figure things out, he talks to Jesus who helps him understand why things are the way they are. In "Monsters and Me", Toby is scared of the dark until Jesus tells him to recite the phrase "God is in me, I will not be scared." In "Making Friends", Toby learns how God made all creatures perfect, even Toby. Finally, in the episode "Crunch Time", Toby learns how planting seeds of kindness will return a vast reward — even if it wasn't exactly the one Toby had wanted.
These episodes are in 2D and 3D animation and all have little nuggets of truth that your children can take away with them. We are pleased to award "The Adventures of Toby" our Dove "Family-Approved" Seal for all ages.