Nature Jams (CD)
DVD Release:
February 7, 2012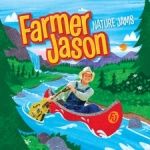 Synopsis
Nature Jams is a high-value, kid-friendly gift package of 16 original songs, four music videos and a colorful 20-page booklet created by über designer Brad Talbott. The song styles range from rock and roll anthems to sea shanties, jazz to folk. Farmer Jason talks with his musical guests about taking hikes, going canoeing, skating and even spelunking. The idea is to get kids excited about the big world around them, observing various animals ("Meadowlark in Central Park," "Manatee," and "Dison the Bison"), learning about cool places around the world and simply enjoying nature. "The point is to motivate kids to get outside and excite their curiosity without being preachy," says Jason. "We tried to make these songs energetic, fun and exciting."
Farmer Jason raked in an all-star list of guest artists to sing and perform with him on Nature Jams, including Steve Gorman of The Black Crowes, Mike Mills from R.E.M., Tom Petersson of Cheap Trick, Iris DeMent, indie folk darling Brandi Carlile, Grammy®-award winning bassist Vic Wooten, Americana hipster Todd Snider, banjo virtuoso Alison Brown, zydeco star Terrance Simien, platinum-selling vocalist Suzy Bogguss, Celtic rockers The Sawdoctors, humorist-musician Webb Wilder, Hank Williams III and the legendary Tommy Ramone of The Ramones. Other guest artists are Jo Nesbø, the internationally best-selling mystery novelist; Kristi Rose, a Nashville chanteuse; and Ruthie Foster, the Blues Music Awards' Traditional Blues Female Artist of the Year . Even Farmer Jason's grown-up band Jason and the Scorchers lend energetic, rocking riffs to the song "The Glacier." With these engaging songs and videos, Farmer Jason and friends hope to motivate children to get outside and experience nature firsthand.
Dove Review
"Nature Jams" is an informational, educational and just plain fun CD that will inspire your children to get up, go outside and explore nature for themselves. Farmer Jason also has guests that play exotic instruments like the accordion and banjo. Your kids will sing, dance and clap their hands to these instant classics such as "Bayou Boogie" and "Take a Hike". The CD also comes with four music videos. We are pleased to award this fun musical extravaganza our "Family-Approved" Seal for all ages. Get a copy and begin exploring today!