The Mighty
DVD Release:
January 10, 2012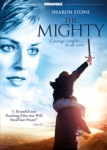 Synopsis
With his loving and supportive mother (Golden Globe® winner Sharon Stone), 13-year-old Kevin (Kieran Culkin) moves in next door to another teen, Max (Elden Henson). Though both have problems that label them as outcasts, Kevin and Max discover that by proudly combining their strengths and uniting as one, they can overcome their individual limitations and triumph over any adversity. As the two set out on a series of courageous adventures, they find that the mightiest treasure of all is friendship.
Dove Review
This is a story about two "different" kids, Max (Elden Henson) and Kevin (Kieran Culkin), also known as "Freak", a crippled child, who form an unlikely friendship. Kevin helps Max read and with his studies, and big Max carries Kevin on his shoulders, enabling him to play basketball in gym and enjoy a local fireworks display with a great point of view. As Kevin says to Max, "You need brains and I need legs."
Max has had to endure the taunts of being the son of a murderer, "Killer Kane" as he is called. It was Max's mother who died and Max lives with his grandparents, his mother's parents, and thankfully has more of his mother's personality than his father's. Max, dealing with brief flashbacks of his mother and of what happened, begins to blossom as he and Kevin develop their relationship, dreaming of being knights and the legend of King Arthur.
There are some strong and sophisticated themes in the movie, including a kidnapping and the death of a child. Regrettably, due to strong language, we are unable to award our Dove "Family-Approved" Seal to the film.
Info
Company:
Echo Bridge Home Entertainment
Reviewer:
Edwin L. Carpenter