The Vow (Novel)
Book Release:
June 15, 2000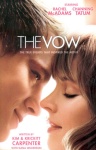 Synopsis
Life as Kim and Krickitt Carpenter knew it was shattered beyond recognition two months after their marriage when a devastating car wreck left Krickitt with a massive head injury and in a coma for weeks.
When she finally awoke, she had no idea who Kim was. With no recollection of their relationship and while Krickitt experienced personality changes common to those who suffer head injuries, Kim realized the woman he had married essentially died in the accident.
And yet, against all odds, Kim and Krickitt fell in love all over again. The Vow tells the true story of this journey, one of a commitment unbroken and a vow fulfilled.
Dove Review
"The Vow" is a powerful book and the inspiration for the upcoming film by the same name. It is written by Kim and Krickitt Carpenter. Krickitt's real name is Krisxan (pronounced Kris-Ann) which is a name that reflects her Greek ancestry. This book focuses on hope. As the young Coach of the Highland Cowboys baseball team, Kim falls in love with Krickitt after calling and speaking with her when she worked at Jammin Sportswear. With subsequent phone calls and eventually an "in-person" meeting, their relationship blossomed until they were finally married.
This book covers their early courtship and the eventual car accident which seriously injured both Kim and Krickitt, with Krickitt's injuries resulting in a near-death experience and memory loss. Her personality changed and she became short-tempered, a common occurrence in her type of head injury. Kim even writes that she used curse words for the first time in their relationship (page 90) when she never would have before. But the worse discovery was that her memory was affected and Kim was like a stranger to her, despite having been married to him for a few months. The book shares the frustrations that both of them experienced as a result of this memory loss, frustrations such as Krickitt acting like a child when pushed harder than she wanted to be, and her subsequent pouting sessions (page 95).
Krickitt fights to regain what she can both physically and memory wise. And against all odds, she and Kim fall in love again and then plan a second wedding. Yet it doesn't come easy. Kim's relationship with her during her physical rehab is more like that of coach/athlete or parent/child (page 140). It is when they realize this that they learn to move forward in a new direction which helps bring them close again.
Eventually the couple become almost celebrities as they appear on TV on Inside Edition and in newspapers across America and even Jay Leno mentions the couple on the Tonight Show. Most importantly, their faith in God and the Bible are not overlooked. This is a book which is very worthwhile to read and time well spent. It is a story of forgiveness, enduring hardship, and second chances. Who wouldn't enjoy reading a book like that? It is not intended for young children but the book is written in a wholesome manner and is a faith-based book and will touch family members everywhere. Therefore we recommend it for all ages. Just as many people do not regret making a vow at one time or another, no one will regret reading "The Vow". It is inspirational and remarkable and is truly a wonderful read. This one earns five Doves from us.