Cinnamon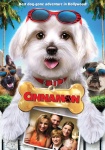 Synopsis
Cinnamon, a spoiled Maltese puppy, loves to have her mommy, Madeline, ALL to herself. But there's trouble when Madeline meets the man of her dreams, Kevin. And now Cinnamon has to share her mommy with Kevin and his 13-year-old son, Jordan. They are all in for a dog-gone Hollywood adventure when the crafty little canine goes into overdrive to break this relationship up. With the help of her doggy friends, Cinnamon knows that she will get her way. What she doesn't realize is that having a family might actually be what she is truly looking for!
Dove Review
What a great family film! The entire family can get something out of this one. We can hear the dog Cinnamon speaking her mind in this picture, although the other characters in the movie can't hear her. She is protective of her owner, Madeline, who is divorced but meets a widower named Kevin and soon the romantic sparks are flying. Cinnamon tries to discourage the romance but to no avail.
A misunderstanding will have to be cleared up between Madeline and Kevin and this becomes a bit of a cliff hanger in the final portion of the film. Kevin's son and Madeline's daughter get along like a brother and sister and if one hurdle can be cleared, the family could be happy together. With wholesome language and family values featured in this film, we are pleased to award it our Dove "Family-Approved" Seal for all ages.
Info
Company:
ARC Entertainment
Producer:
Michael Feifer and David DeCrane
Industry Rating:
Not Rated
Reviewer:
Edwin L. Carpenter