God's Country
Theatrical Release:
February 24, 2012
DVD Release:
April 23, 2013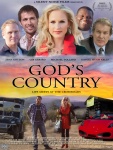 Synopsis
Limited Theatrical Release – Los Angeles real estate agent/developer Meghan Doherty is given the task by her boss, Mr. Whitaker, of securing the title on a large parcel of Mojave Desert. The foreclosed land in question, called God's Country, is owned by Eden Graham, a minister who runs a youth camp there, along with his wife and son, Jake. Upon arrival at the camp in her Ferrari and designer clothes, Meghan is clearly not a food fit, but Eden persuades her to stay; he promises to sign over the property to her if, during her weeklong sojourn there at the camp, she is not convinced of the value of what they are doing.
Dove Review
"God's Country" is not only the name of this film but its location, a small Christian camp in the middle of the Mojave Desert. The scenery is as beautiful as the story, that of a struggling ministry about to go under due to a lack of financing. When the real estate company that holds a mortgage on the property has other plans for the land, they send their "top gun", Meghan Doherty, out to close a private deal for the property before another creditor can seize the assets. Camp owner Eden Graham makes a deal with Meghan to stay for six days and experience all God's Country has to offer and if she is still intent on taking over the land, he will sign the deal and give up his dream.
City meets country in this wonderfully made story of friendship, trust and faith. God is honored throughout the film and Meghan soon learns to trust in Him as well. We are pleased to award this wholesome, faith-friendly film our Dove Seal.
Info
Company:
Slingshot Pictures