Mia and the Migoo
DVD Release:
August 7, 2012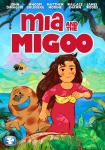 Synopsis
From the distributors of the Academy Award-nominated The Secret of Kells, come Mia and the Migoo, the gorgeous second feature from renowned French animator Jacques-Remy Girerd. A fable-like journey of a young girl who must overcome her fears on a quest to find her father and save the world from destruction, Mia and the Migoo was created from an astounding 500,000 hand-painted frames of animation. A stunning work of art, breathtaking to behold, with backgrounds that invoke Van Gogh, Monet, and Cezanne, it also features the voices of Whoopi Goldberg, Matthew Modine, James Woods and Wallace Shawn.
Following a premonition, Mia sets out on a cross continental journey, through mountains and jungles in search of her father, who has been trapped in a landslide at the construction site on a remote tropical lake. In the middle of the lake stands the ancient Tree of Life, watched over by innocent, bumbling forest sprites called the Migoo, who grow and change shape as they please, morphing from small childlike beings to petulant giants. The Migoo have been disrupting the construction to protect this sacred site — and now together with Mia they join in a fight to find Mia's father and save the Tree, with the future of life on Earth hanging in the balance.
Dove Review
This is a story about a bad man named Jekhyde who changes by the end, and a girl named Mia in search of her father. He is off working in the mines but she doesn't realize he has been in a cave-in. Mr. Jekhyde, the owner of the business, doesn't want the workers to continue digging out Mia's father, Pedro. He is more concerned about the monster or monsters known as the Migoo. He believes they are responsible for some recent tragic events. Mr. Jekhyde's son, Aldrin, longs for his father's affection and eventually Mia's and Aldrin's paths cross. When the great tree suffers severe damage, all of their lives are in danger.
This is a fantasy which involves magic and the sacred tree seems to be a god-like thing as it is stated the end of the world will come if the tree is destroyed. Despite this deifying of the tree, there is a good fantasy story told here, with a major villain changing by film's end, and forgiveness being displayed. We gladly award this animated movie our Dove Seal for ages twelve plus.
Info
Company:
Entertainment One Films
Reviewer:
Edwin L. Carpenter