Adventures of Bailey: The Lost Puppy
DVD Release:
January 17, 2012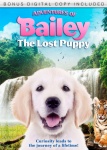 Synopsis
Bailey is an adorable Golden Retriever pup who lives with his loving family, the Bakers, and best dog pal, Duke. But when the Bakers decide to move, curiosity gets the best of Bailey and he runs off to explore at a rest stop. By the time he makes it back, his family has left and he is forced to fend for himself. Bailey finds himself at an exotic animal ranch—amongst kangaroos, a wise sheepdog, and an evil monkey—where he learns the importance of lending a helping hand. Even though Bailey earns his place in the ranch family, he continues to wonder, will he ever see his real family again?
Dove Review
This is a wonderful and warm film for the entire family. It is imaginative and wholesome.
When young pup Bailey is separated from his adoring family, the Bakers, plus his older "brother" Duke, he is saddened and yet determined that despite this "interruption" in his daily routine he will find them again. No one intended for it to happen when the family innocently stopped at the gas station.
Although Bailey keeps hoping his family finds him, he has quite a few adventures and makes new friends. Some are not friendly, more like tricky such as the monkey Bailey comes across. Yet he makes enough friends to help him during this difficult time. He even plays with baby kangaroos and associates with camels. Eventually he gets the idea to go seek out his family instead of waiting for them to find him. You will have to watch it to see if the anticipated reunion takes place but this is a delightful movie the entire family can enjoy together. We are happy to award the film our Dove "Family-Approved" Seal. Are you up to an adventure with Bailey? You won't regret it.
Info
Company:
Echo Bridge Home Entertainment
Industry Rating:
Not Rated
Starring:
Narrator: Mark Stoddard
Reviewer:
Edwin L. Carpenter