Bound
DVD Release:
October 3, 2011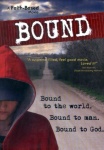 Synopsis
Bound tells the story of Cheri Harper (Stephanie Motal), a young woman whose life is filled with struggle and bad choices. A set of unforeseen circumstances finds her the reluctant guest of a family who helps her face some very important decisions. Unlikely friends come to the rescue, and with their help she learns the truth and finds the hope that will forever alter her life.
Dove Review
This is a powerful story about the life-changing power of the gospel of Christ. A woman named Cheri Harper has made several bad choices following the death of her mother. She smuggles drugs without even knowing it. Wanted by police in Seattle, she escapes to Texas where a sheriff, after hitting her when she bites him on the leg, takes her to man named Daniel Ryan. Ryan agrees to pay the damages she caused and soon Cheri is looked after by a family although she is initially chained to a bed. What is going on? Stephi Motal as Cheri and Rhonda Washington as Margret turn in terrific performances in this movie.
The viewer will learn the answers to a few mysteries which the plot sets up including whether the intentions of Daniel Ryan are noble or not. This film shows how a powerful conversion can take place simply by being obedient to God's word. A woman who has known much pain is showered with love including being given clothes, jewelry, a facial and plenty of attention. We are pleased to award our Dove Seal to this movie. We recommend it for ages twelve and over due to some intense scenes including a woman being hit. This movie has the power to inspire!
Info
Company:
World Video Bible School
Producer:
World Video Bible School Productions
Industry Rating:
Not Rated
Reviewer:
Edwin L. Carpenter