Oblivion Island: Haruka and the Magic Mirror
DVD Release:
August 14, 2012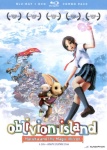 Synopsis
Since the loss of her mother, Haruka has become an emotionally-detached teenager who doesn't appreciate her father's workaholic tendencies. While searching for a mirror her mother had given her as a child, she encounters a foxlike creature and follows him to Oblivion Island, a magical world of forgotten items. Her journey becomes a rollercoaster ride of adventure and self-discovery as she and her new friend, Teo, search for her mirror, which has fallen into the hands of the Baron–a greedy ruler that lords over Oblivion Island and has plans to reach his influence into the human world.
Dove Review
Join this fantastic adventure to another world and be awed by the amazing animation and creative characters!
Haruka has lost her mother and she resents her father's constant working as displayed when she reacts with disrespect and a short fuse. However, when she finds herself at Oblivion Island, a magical world, she encounters good creatures and evil alike as she pursues the mirror her mother had given her as a child. When she encounters the mirror's memories she sees the pain her father endured when her mother died and his steadfast love for her.
This other world Haruka encounters contains violent moments perpetrated by an evil Baron and this results in explosions, Haruka's teddy bear friend Cotton being ripped in two, and a lot of intense although fantasy-type violence. The themes of loyalty and the change in attitude of Haruka toward her father is to be commended. Due to the intensity of Oblivion Island, and the content listed in our 'other' category, we are recommending the DVD for ages twelve and over but we are pleased to endorse it. Like Alice and her looking glass, you will enter a completely different world during this adventure! We are pleased to award this DVD our Dove "Family-Approved" Seal.
Info
Company:
FUNimation Entertainment
Starring:
Christine Marie Cabanos
,
Cassandra Lee
,
Patrick Seitz
,
Julie Maddalena
,
Julie Ann Taylor
,
David Roach
,
Mio Tanaka
,
George C. Cole
,
Derek Stephan Prince
,
Tara Platt
,
Kyle Hebert
,
Mark V. McCollum
,
Xanthe Huynh
,
Amanda C. Miller
,
Victor Sgroi
Reviewer:
Edwin L. Carpenter