Freedom Fighter
DVD Release:
April 17, 2012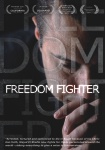 Synopsis
Freedom Fighter is the story of Majed. An Egyptian man who was beaten, tortured and sentenced to death for his faith. Having escaped to the west, this former victim now fights for those facing a similar fate at the hands of extremists, while their own governments turn a blind eye, or worse, participate in the persecution of religious minorities within their borders.
This film follows Majed on his journey to change the world. Traveling to Afghanistan and Pakistan, where he challenges their governments and attempts to rescue a family hiding in Pakistan after their 2 year old daughter was raped in an effort to "Force convert" them.
Dove Review
This is a moving documentary, sharing the good that Majed El Shafie has accomplished, with the help of others, in his fight against persecution. Once of the Islamic faith, Shafie became a Christian in Egypt and immediately began to suffer persecution. He was tortured, having his clothes removed and suffered burning. That was only the beginning.
This documentary features his efforts to get various countries to help and to respect human rights. We also see him recount the tearful story of his best friend, Tamer, who took a bullet on his behalf and saved his life. In addition we meet Neha, a young girl who was raped and subsequently has had five surgeries. It becomes El Shafie's passion to get Neha and her family out of Pakistan to Canada. You will have to view the DVD to learn if he was successful.
Although this DVD contains a few strong videos and photos, such as bloody wounds on a man's body, and horror stories of torture, it is not gratuitous and the education this DVD provides, along with the hope, is inspiring. The viewer learns that there is an average of one persecuted Christian every three minutes and that last year 165,000 Christians were killed for their faith. We recommend that parents consult our content listing below. We are happy to award this educational and inspiring DVD our Dove "Family-Approved" Seal for ages twelve and above. It is a powerful DVD which will increase the viewer's gratefulness for his/her own life and may inspire more involvement to help set the persecuted free.
Info
Company:
Destiny Image Films
Writer:
Majed El Shafie and Chris Atkins
Industry Rating:
Not Rated
Reviewer:
Edwin L. Carpenter