Adventures of Mickey Matson and the Copperhead Treasure
Theatrical Release:
May 10, 2012
DVD Release:
July 16, 2013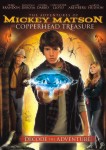 Synopsis
Limited Theatrical Release – Unraveling a series of clues left behind by his grandfather, Mickey Matson and his friends embark on a magical journey in search of a mythical ancient device. With the future of the country hanging in the balance, they will have to outsmart and outrun an evil conspiracy that dates back to the civil war. Chock full of exciting twists and turns, The Adventures of Mickey Matson and the Copperhead Treasure is a fun adventure for the whole family!
Dove Review
This movie is a delightful journey into the imagination! When you have a story which has its roots in President Lincoln and the Civil War, a boy and a girl, bad guys, a quest for three elements which could cause great harm, and the wonderful Christopher Lloyd as Grandpa Jack, what's not to like?
When Mickey's grandfather dies, he mourns him but is at a loss as to why his grandfather (Christopher Lloyd) left him a rock. Then, Mickey learns it is a Petoskey stone and that, along with a sapphire and one other key element he would have everything he needed to run the alchemy machine. We won't reveal the secret of the machine and what happens, but rest assured there is plenty of action along the way in this story which kids and adults will enjoy together. The mystery deepens and the plot grows thick before all is resolved. It features humor too, such as when a robber tells his fellow thief he needs to eat right for "regularity".
The movie takes place in Michigan and features some beautiful scenes such as the majestic lakes and a historic lighthouse as well as the wonderful themes of loyalty and fighting for what's right. We are very pleased to award our Dove "Family-Approved" Seal to this terrific film. See it soon and cheer the good guys on to victory!
Info
Starring:
Ernie Hudson
,
Derek Brandon
,
Francesca DeRosa
,
Patrika Darbo
,
Christopher Lloyd
,
Lee Arenberg
,
Frank Drank
,
Rick Plummer
,
Amy McFadden
,
Kevin Yon
,
Matthew Tailford
,
Steven Dutton
Reviewer:
Edwin L. Carpenter