Squigglys Race to the Ark (Illustrated)
Book Release:
April 12, 2012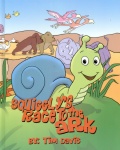 Synopsis
The great flood is coming soon. Pairs of animals are racing to the Ark from all over the world. One such animal is a snail named Squiggly. However, he is not only slow; he leaves an embarrassing slimy trail everywhere he goes. Can Squiggly make it in time…is there room on the Ark for someone so undeserving as he? Travel with Squiggly on his journey as he discovers God's plan for him is bigger than he could have dreamed, and what he sees as his greatest flaw becomes a saving grace! Children love the characters and parents are raving about the online gift assessment that shows them their child's unique God given personality gifts.
It's more than a book. It's a lifetime lesson on how to raise children to lead a life of significance!
Dove Review
Squiggley is an average snail. He is slow, slimy and unsure of his purpose in life. When his friend Galen the grasshopper tells him that God is sending a great flood, and Noah has built an Ark, Squiggly wonders why God would want him aboard. None-the-less, Squiggly gets together with his snail friend Grace and they make the long journey to Noah's ark.
Along the way he encounters more doubt but completes his journey ahead of the other animals. Will the others make it in time? We won't spoil the ending but it seems that something that Squiggly thought was one of his worst traits ends up to be his greatest gift from God. Your children will love this book and it will give you an opportunity to discover what gifts your children have that God can use for the greater good. We are pleased to award this wonderful book our Dove "Family-Approved" Seal for all ages.
Info
Industry Rating:
Juvenile