Believe: The Misfit Pawn
DVD Release:
April 15, 2012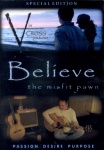 Synopsis
A middle-aged factory worker takes a leap of faith and follows his dream of being a recording artist. Along the way he discovers that miracles really do come true…if you believe!
Dove Review
This movie hits a homerun! It shows the treasures that can come from a life which honors God.
Julian is a middle-aged man who works in a factory and wants a different life. He is a talented musician and singer as well as a songwriter. He steps out on a limb and borrows the money to get a demo made at a recording studio. Soon a woman named Jezel grabs ahold of him because, as she tells him, "you are going to be a rock star." He does well with his music in Europe but things are slow in America and he soon takes a part-time job at a youth center just to make ends meet.
His world begins to crumble when his wife walks out on him and he finds he is unhappy without God. He enjoys helping a troubled young man named Anthony at the youth center and he also likes the company of a supervisor named Sajia. A musician named Cain talks to him about Jesus and he remembers his grandmother telling him about the Lord when he was a kid. But before things get better they get worse, especially when a flood destroys Julian's home and recording studio. Yet he accepts Sajia's invitation to church and experiences a wonderful surprise.
This movie is terrific and although it reveals real-life situations such as Julian's life prior to living for God, the redemptive theme is powerful and compelling. We recommend this DVD for ages twelve plus. We award this movie five Doves, our best rating.
Info
Company:
ViaCross/One Purpose Media
Writer:
Joel Bunkowske and Jon Pupillo
Director:
Joel Bunkowske and Jon Pupillo
Producer:
Jon Pupillo and Joel Bunkowske
Industry Rating:
Not Rated
Starring:
Jon Pupillo
,
Georgiana Jianu
,
Sonja Hill
,
Spiro Megremis
,
Reginald Hill
,
Azariah Cain
,
Daniel Ahlfeld
,
Dashaun Blankenship
,
Annie Anderson
,
Bobby Sirounis
,
Lisa Raclaw
,
Sara Wessendorf
,
Yvette Jones
,
Jonathon Pettis
,
Anthony Scott
,
Denny Jiosa
,
Kim Nygren
,
Adam Burnett
,
Pete Krajci
,
Vera Milensnic
,
Frank Nielsen
,
Regina Hill
Reviewer:
Edwin L. Carpenter