Fathers
DVD Release:
May 29, 2012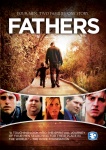 Synopsis
Fathers" is the story of two single fathers and their sons. One of the men, Rick Tarinno, lost his wife in a tragic car accident 3 years ago. Ever since the accident, Rick has blamed God for everything, from the death of his wife to the living hell that his life has turned into. He turned to a life of abuse and drinking to try to drown his sorrows. The other man, Michael Campbell, is approaching the three year anniversary of the abandonment of his wife and subsequent divorce. The night she left was the same night as Rick's accident. Mike is a blue collar guy that really had to learn to be a parent after the divorce. He turned to his church family and friends for support and help and they led him to God, his ultimate helper. Rick's son, Lucas, and Michael's son, Raymond, have known each other most of their lives. Since the death of Lucas' mom, things haven't really been the same. Lucas has been the victim of his fathers' abuse and has turned to a new group of friends for the attention that he isn't getting at home. Raymond, the star quarterback on the high school football team, has been trying to maintain their friendship, but can do nothing but watch as his lifelong friend slips lower and lower. Rick's lack of faith, Michael's commitment to God, and Raymond's longing for his old friend will all be put to the test when Lucas is put in the toughest situation of his young life and Raymond is forced to fight for his. Only then will the truth be sought and hopefully found, before it's too late. "Fathers" is a touching look into the spiritual journey of four men searching for their place in the world.
Dove Review
This story is one which could be used as an evangelism tool. It is about two fathers who make a difference in their son's life. One is not making a good difference; in fact, just the opposite. Since Rick Tarinno's wife and daughter died in a tragic car accident three years ago, he now drinks and sits around the house doing nothing else except smacking his son Lucas around on one occasion. On the other hand, Ray Campbell's father, Mike, lost his wife in a different way when she left him for another man. But Mike is constantly there for his son Ray to make sure he is okay. Ray is more concerned for his father than for himself.
Mike continues witnessing to Rick to try to get him to be the father he can be. Rick doesn't want to hear about God but Mike continues to tell him that God is the only one who can fix things. When a tragedy strikes Mike's life, he must live what he has preached. In a Christian analogy, the loss of a life may be the one thing which saves another one. We recommend this movie for ages twelve plus due to some intense scenes. We are pleased to award our Dove Seal to the film.
Info
Company:
Bridgestone Multimedia Group
Industry Rating:
Not Rated
Reviewer:
Edwin L. Carpenter