Pastime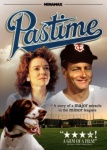 Synopsis
In 1957, baseball is at its peak as America's favorite pastime. For aging minor leaguer Roy Dean Bream (William Russ), whose dreams of pitching in the Majors died long ago, the love of the game is all that keeps him showing up season after season. But when the team signs rookie Tyrone Debray (Glenn Plummer), a 17-year-old from the wrong side of town, Bream sees someone with the potential to achieve what he never could. As an unlikely friendship develops across the boundaries of race and age, these two ballplayers will inspire each other to become more than they ever thought they could be.
Dove Review
This movie shines as an example of a man who refuses to be a racist and who retains a positive attitude despite the curve balls life throws his way. The aging minor league pitcher Roy Dean Bream (William Russ) makes the new rookie, an African American named Tyrone Debray (Glenn Plummer), feel right at home despite a less than nice reception from a few of his other teammates. While Roy and Tyrone enjoy lunch together in a diner another player talks about the "salt and pepper" and makes sure they hear the racist inference.
The owner of the team wants Roy gone, believing that the manager, Clyde Bigby (Noble Willingham), is carrying him. But Bigby sees a likable player with a positive attitude in Roy and is willing to give him the benefit of the doubt when it comes to his fading skills.
This is a terrific movie and, despite some language, its themes of accepting people of all races and never giving up on a dream are nicely featured in the film. We are pleased to award the movie our Dove "Family-Approved" Seal for ages twelve plus. Play ball! And enjoy this movie too.
Info
Company:
Echo Bridge Home Entertainment
Reviewer:
Edwin L. Carpenter