The Encounter 2: Paradise Lost
DVD Release:
September 18, 2012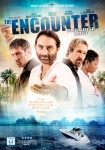 Synopsis
Bruce Marchiano (The Encounter), David A.R. White (Jerusalem Countdown, In the Blink of an Eye), Robert Miano (Donnie Brasco) Riff Hutton ( JAG) and Gary Daniels (The Expendables) star in this explosive, challenging sequel to the faith-based sleeper hit The Encounter.
A retiring drug smuggler (MIANO), his drug-addicted wife and his ruthless bodyguard (DANIELS), find themselves trapped by a suspended DEA Special Agent (WHITE) at a Thai resort owned by a troubled former Wall Street investment banker (Hutton) and his wife, who mourn the loss of their only son in a devastating tsunami. It is an explosive mix of personalities. Violence looms, but a mysterious guest, claiming to be Jesus Christ (MARCHIANO), arrives to offer each of them one final chance at redemption in this inspiring, thought-provoking thriller.
Dove Review
Here is a tremendous story about a one-on-one time with Jesus! Bruce Marchiano is terrific as Jesus who comes to a couple's home to minister to them and others who are being held hostage by a drug lord named Bruno. The couple lost a son; a Christian named Timothy, who died at the age of 22 during the tsunami in 2004. His parents, Helen and Christopher, have reeled in their marriage and lives since then and have considered divorce. In fact, Chris was near committing suicide earlier in the day when he was interrupted by a divine plan.
A special DEA agent, Rick (David A.R. White), is after Bruno the drug lord and wants to kill him in the worst way. Jesus has to remind Rick that this motive is wrong. Bruno loves his wife and Jesus ministers to her as she is going through withdrawals from drugs. The film does contain some shooting scenes and a bit of blood as well as a scene which shows a woman's drug paraphernalia but the story is powerful with its redemptive message. We were concerned about a scene in which a woman who died from a drug overdose is said to have made it to heaven. Apparently she had a conversion when she was younger. We just want to make note of this so as to not encourage this kind of lifestyle with the thought that it doesn't matter in relation to one's salvation. However, the redemption theme is definitely present in this film and again, Bruce Marchiano is wonderful as Jesus. We gladly award this DVD our Dove Seal for ages twelve plus. This movie reminds us all that there is an all-seeing eye, and one who loves us always.
Info
Industry Rating:
Not Rated
Reviewer:
Edwin L. Carpenter