Pokemon: Jirachi Wish Maker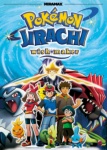 Synopsis
Catch one of the most amazing Pokémon ever—Jirachi, a magical creature capable of making wishes come true—in this all-new Pokémon movie never before seen in theaters.
Only once every thousand years when the Millennium Comet is visible in the night sky does Jirachi awaken from his slumber. And when he awakens this time at a traveling circus, he's got a whole new set of friends by his side: Ash, Pikachu, Max and the whole gang. But soon, they must rescue Jirachi from the clutches of an evil magician and former scientist named Butler who wants to harness Jirachi's incredible energy to bring life to one of the most legendary and powerful Pokémon of all!
Packed with nonstop thrills, high-energy action and lots of surprises, Pokémon®: Jirachi Wish Maker is a wish-come-true for fans.
Dove Review
This is a fun and fantasy filled DVD. The animated characters are interesting and of course Pokémon was, and still is in some places, a big deal. The nice thing about this DVD is that the characters are easily distinguished by the good and evil they do. Although there are battles and one evil character "sucks up" characters, we see that they are safe and not harmed.
One of the most amazing characters is Jirachi, who uses magic and is able to make wishes come true. Other characters make this movie an interesting journey, including Pikachu, Max, and Ash. But when the evil magician captures Jirachi and a former scientist, Butler plans to harness and use Jirachi's energy to bring an incredible and powerful Pokémon to life!
We are pleased to award our Dove Seal to this DVD. This movie has never been seen in theaters and will be a treat for Pokémon aficionados everywhere!