13 Families: Life after Columbine
DVD Release:
August 7, 2012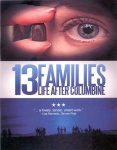 Synopsis
The shootings at Columbine High School on April 20th,1999, ended thirteen lives and shattered countless others. But while the tragic events of that day were well documented, the stories of the families who lost loved ones and struggled to build new lives have yet to be told. Bound forever by unimaginable circumstances, these thirteen families lived through the same tragedy, yet each has dealt with the aftermath in their own way…and each has a different story of how their lives have changed. 13 Families weaves an intimate tapestry of hope, providing the families a forum to tell their personal stories…stories that are not tainted by any media angle but rather seek to tell the unvarnished truth of their experience. The families provided the filmmakers exclusive and unprecedented access, sharing insightful and intimate details of their lives. What happened to the Columbine families could happen to anyone, and perhaps that's why the event had such an impact on the nation and the world. What the film demonstrates is how ordinary individuals can be confronted with a sudden and devastating loss and yet how they find the strength to move forward. In addition, the film touches on the issues of gun control, school violence, and the painful reality that tragedies like Columbine and Virginia Tech continue to plague our nation.
Dove Review
This powerful DVD looks at 13 lives now gone and remembers them: Cassie, Steven, Corey, Kelly, Matthew, Daniel, Dan, Dave, Rachel, Isaiah, John, Lauren, and Kyle. There were 13 lives taken tragically at Columbine High School on April 20, 1999. However, it wasn't just their lives, 12 students and a teacher, but the lives of families and friends who were and still to this day are affected. And that includes a survivor who appreciates her life despite being bound to a wheel chair.
The lessons learned from these families include the fact that they love and miss their departed family member to this day, and that if not for hope they could not have continued on. All of them talk of the pain they endured and the tears are still shed to this day. The family attends a recently constructed memorial and they reflect on the lives of the special people they were and how they live on in their hearts and memories.
One parent has gone on to not fight against the right to own guns but for stricter gun control while another parent travels to high schools and speaks about ways to keep the Columbine tragedy from ever happening again. He gets some hugs from several students and a few wipe tears away. One woman says that God and Christ help her deal with anger. This compelling DVD is educational as well as a piece of our tragic history. It is well made and will touch many viewers. We are honored to award this DVD our Dove "Family-Approved" Seal for ages twelve plus.
Info
Company:
Osiris Entertainment
Industry Rating:
Not Rated
Reviewer:
Edwin L. Carpenter