Discovering Our Mothers
DVD Release:
May 10, 2012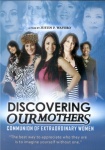 Synopsis
The courage of a mother should never go unnoticed and we believe her strength should not be underestimated. The film "Discovering Ours Mothers" is a full length documentary depicting the importance that a mother has, not only on her children but also upon who they become in society. The film showcases the communion of extraordinary and powerful women throughout the country. The film is a tribute to the often-invisible strength, courage, and heart of Mothers. Based on poignant emotion and truth shared between great women of God. Women in this film share anecdotal memories and inspirational thoughts that could be helpful in encouraging mothers everywhere as they view the documentary.
It is important for us to impart the awareness of the vital role that one person can have in helping the world, by the influence she has on a child.
Dove Review
This incredible DVD will inspire moms everywhere to keep up their efforts and may well develop a fuller appreciation by sons and daughters for their mothers who brought them into the world.
Several topics are covered by moms and daughters in the DVD, including teen pregnancies, single parent homes, working mothers and those who stay at home with the children, career-minded moms, the influence of mothers and so forth. Some interesting statistics are quoted including the one that states that couples who cohabitate or live together before marriage are 50 percent more likely to divorce than those who wait to get married. Several women are interviewed for the DVD and many of them put the focus on the Lord Jesus Christ, and allowing him to lead one's life so that it might be blessed.
This DVD also features a woman encouraging a daughter not to be bitter at her mother and a trip to the cemetery reveals that life is short and we should appreciate mothers while we have them. This DVD will inspire many viewers and we are happy to award it our Dove Seal for ages twelve plus. This might just make a nice gift for someone you know. Watch it for yourself and decide what it inspires you to do.
Info
Company:
JPW Reliance Media Group
Industry Rating:
Not Rated
Starring:
Narrated by: Rebecca Tatum
Reviewer:
Edwin L. Carpenter