Vampire Dog
DVD Release:
September 25, 2012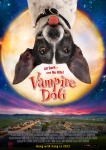 Synopsis
Ace is just like any other new kid at school, until his grandfather from Transylvania dies at age 96 and sends him his dog Fang. Ace soon discovers that Fang is a vampire dog – and he speaks English! Mad scientist Dr. Warhol and her bumbling assistant Frank try to capture Fang and steal his DNA in hopes of developing the latest anti-aging technology, but lucky for Ace the vampire dog manages to stay one step ahead of his pursuers. And, along the way an enduring friendship forms when Ace and Fang discover that together they are unstoppable.
Dove Review
This one aims high for the imagination and the likable kid actors help pull it off! Young Ace (Collin MacKechnie) is a gifted musician, a drummer, but he loses all confidence when he plays in front of others. His mother, Susan Cunningham (Jodi Sadowsky), is the new Music Teacher for Lugosi Public School (Gee, that name, Lugosi, sure sounds familiar). Ace attempts to play drums for the class, which needs a lot of practice, but falls backward off his stool which winds up as a video on the internet.
The school is in serious danger of being closed. However, Ace's mother has faith in the music class, telling them if they win an upcoming music event, a battle of the school bands, they can become a charter school and stay open. A young science genius named Skylar (Julia Sarah Stone) takes a liking to Ace and helps him to develop his confidence. But life is nowhere near normal when Ace's deceased grandfather wills his dog, Fang, to the family. Fang has an unusual secret until Ace learns it: he is a vampire dog and has to avoid sunlight. He happens to be able to talk as well and he can really talk once he gets his tongue in motion. Voice artist Norm MacDonald provides a unique and perfect voice for Fang, an interesting voice which seems to meld perfectly with the dog.
The film features themes of learning confidence, and that cheaters do not prosper, as well as the statement that life often gives us a second opportunity after we have messed up. We are happy to award the movie our Dove Seal for all ages. But beware, you just might enjoy this vampire…dog!
Info
Company:
Entertainment One Films
Industry Rating:
Not Rated
Reviewer:
Edwin L. Carpenter