A Holiday Engagement
DVD Release:
October 16, 2012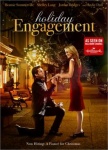 Synopsis
Hillary Burns (Sommerville) is always struggling in life and love while constantly feeling the pressure to marry from her demanding mother, Meredith (Long). This holiday season, she thinks she finally has it right but when Hillary's fiancé suddenly breaks up with her, she scrambles to find a fake fiancé. After posting an ad online, she hires David (Bridges), an out-of-work actor to pose as her fiancé in front of her mom, her dad (McMurray) and her snobbish sister Trish (Duff). Her fake engagement starts to unravel when she realizes she's in over her head and begins falling for David.
Dove Review
This is a funny movie which will have the viewer rooting for true love to prevail! Hillary Burns (Bonnie Sommerville) is engaged to an attorney named Jason (Chris McKenna) who seems to have little spare time for his future bride. He is constantly on the phone and, when he is certain he will be promoted to a job which will require him to move to Pittsburgh, he assumes Hillary can uproot herself with no problem. When she hesitates, he unceremoniously dumps her.
Hillary has promised her mother she is coming home for Thanksgiving with Jason so the entire family can meet him. Fearful of disappointing her mother, she posts an on-line request for someone to impersonate her fiancé for the weekend and she will reward the man with two tickets to Mexico which she won in a radio contest. She meets an out of work actor named David (Jordan Bridges), who does at least have a job working at a diner, and she promises the tickets to him if he will accompany her to her parents' home. He does and then the running joke becomes the two of them trying to make the deceptive story work. They pull it off pretty well except two unexpected things occur: one, they develop true feelings for each other and two, the real Jason shows up at Hillary's parents' home. How will this potential tragedy work out? You will have to watch it to find out but get ready for both funny and touching moments in this comedy/drama. Despite the ruse, the couple comes clean in the end. We are pleased to award this movie our Dove "Family-Approved" Seal for ages twelve plus. This holiday-based movie is perfect for a good watch any time of the year!
Info
Producer:
Johnson Production Group/Tim Johnson
Industry Rating:
Not Rated
Reviewer:
Edwin L. Carpenter