Chuggington: Icy Escapades
DVD Release:
October 30, 2012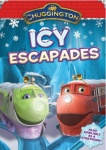 Synopsis
In this traintastic collection of winter adventures, the crew takes to the tracks as snow and ice cover Chuggington! When the rails become frozen, it's up to Wilson, Koko, and Brewster to save the day and keep the town moving! With help from their fellow Chuggers, the trainees get rescued from a blizzard, dig their way out of snow drifts, and even take to the skies when the wintry winds lift Hodge from the rails! Share in the journey as the trainees learn important lessons of teamwork and problem-solving, while discovering there's snow-place like Chuggington!
Dove Review
Now this is what good children's entertainment is about! The stories are terrific, the characters are delightful, and the animation is awesome! The wintry scenes really take you outside to the snow drifts, snow covered trees, grey skies and cold breath which is displayed in little puffs of frosty air.
The Chuggers are determined to do their job, to keep the tracks clear from ice and to make sure that local travel is not impeded. This doesn't happen without challenges of course. In six episodes, we see the small trains deal with snow, ice, wind and machinery which needs repair. And in a few nice scenes we see the snowmen the local children have built.
In episode one, "Chilly Chuggers", following a severe weather warning, the tracks need to be sprayed with anti-ice spray. One well-meaning Chugger accidentally uses water instead of the anti-ice liquid which makes matters worse, but the other Chuggers come to the rescue. In episode two, "Snowstruck Wilson", Wilson wants to help plow but there is a lot of snow to contend with and, once again, it is a team effort which makes things work. Wilson winds up lost for a time but soon help is on the way. In episode three, "Wilson's Icy Escapade" sand is needed to make the tracks safe following inclement weather. Wilson needs assistance to help out. The steam engines need steam but the water is frozen. Will the gang find a way to make it work? Absatootly!
In episode four, "Heave Ho Harrison", the gang works in pairs to clear the tracks and the smaller ones work as depot helpers. Repairs are needed and another challenge faces the group. It won't be easy, as one Chugger says, "Get my drift?" Wintry humor aside, the gang pulls together and things work out once more. In episode five, "Hodge Sails Away" strong winds demand re-routing the travel plans. Eddie, a train worker, gets help from the Chuggers to keep things working smoothly. In the final episode on the disc, episode six titled ""Rolling Reporter Wilson" Wilson gets the opportunity to be on TV as a roving reporter to cover a big event. It won't all be easy, but Wilson knows this is an opportunity of a lifetime.
This DVD is wholesome with nice stories which promote teamwork and friendship and pulling together to accomplish difficult tasks. It does all this while being very entertaining with the larger-than-life personalities and wonderful animation. This one is easily awarded our Dove Seal and five Doves, the most we award. It is well earned. Your kids will love this one and chances are that you will too!
Info
Company:
Anchor Bay Entertainment
Industry Rating:
Not Rated
Reviewer:
Edwin L. Carpenter