Pink Elephants in Paris (CD)
DVD Release:
March 30, 2012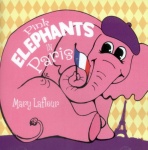 Synopsis
This musical romp is a wonderful introduction to the French language and culture. It is full of enchanting songs, clever riddles and lovely poetry written, spoken and sung in both French and English. It also features native speakers during several sketches, including the witty "Learn To Speak French-Part 1" and "Learn To Speak French-Part 2". The final track, a magical song called "Fairy Wings," invites listeners to go to Paris again, any time, on the flights of Lafleur's fancy and the words of her pen.
This CD will make an excellent addition for schools and children's library collections. Whether used in a classroom situation, or singing along in the car, you and the children in your life will have a delightful musical and listening experience.
Dove Review
Mary Lafleur performs in this CD with a sweet and wonderful voice and she sings like she's a good friend, telling stories and entertaining at the same time. I thoroughly enjoyed her vocal talents and story-telling songs in this terrific CD. It's a mixture of songs and stories and even a few riddles are thrown in. One will learn a few words in French and, if the listener is an adult, be reminded of songs heard as a child such as "Frere Jacques" or "Aloqette".
A few of the songs are about traveling to France but also about life's journey and meeting people along the way, something the listener will relate to. In the song "Bring your dog along" we hear dogs barking and howling in the background which is something the kids will enjoy a lot. There are 16 songs on the CD in addition to the riddles and the rhymes are wonderful. One riddle gives a description of a certain creature and then asks the listener, "What are we?" Mary also shares a few of her favorite French words. If one loves or appreciates the French language, it may inspire the listener to appreciate the CD even more but this is definitely one that all can enjoy. A beautiful song on the CD titled "Cathedral" is about saying a prayer and features the line "God bless the children" and is truly a lovely song. We highly recommend this warm and wonderful CD for all ages. Listen soon and sing along with Mary! We award this CD our Dove "Family-Approved" Seal and five Doves, our highest rating.
Info
Company:
Golden Angel Music
Industry Rating:
Not Rated
Starring:
The singing voice of Mary Lafleur
Reviewer:
Edwin L. Carpenter