The Love You Save
DVD Release:
November 6, 2012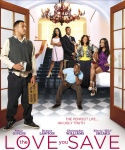 Synopsis
Alexis, (Robin Givens) is a successful single real estate mogul, with a seemingly perfect life. Having raised her two sons and daughter as a widow, she has given her family a life of privilege and opportunity. Despite Alexis' success as a businesswoman, she finds things coming apart at the seams when her children discover a secret from their past that shakes the family to its core.
Dove Review
This movie shows love triumphing in the end and it features an inspiring conclusion. This one will touch every family who views it.
Robin Givens plays a woman named Alexis who has made a lot of money in real estate and she has left her past behind which includes a marriage to a man that is believed by his children to be dead. However, the family gets a surprise when one of Alexis' grown sons meets a man at a homeless shelter and he learns a shocking secret.
This movie is about second chances and forgiveness and will move many viewers as they watch it. We are pleased to award our Dove Seal to this movie for ages twelve plus. A few words of strong language prevents us from awarding it the Dove Seal for all ages but parents should consult the content chart below as some may be comfortable with their children who are a bit under twelve watching the film. In an inspiring scene, a woman sings about Christ.
Info
Company:
Image Entertainment
Reviewer:
Edwin L. Carpenter