Saint Street
DVD Release:
November 6, 2012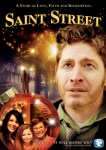 Synopsis
Saint Street is a classic American Chrisms tale for the entire family. The story follows Percy who is a good man, but has found himself caught up in the riches of the world and is neglecting his most prized possession — his family.
Christmas Eve has arrived and Percy is still hard at work late into the night, once again breaking his promises to his wife and kids that he would leave early so that they could drive to their traditional family Christmas party. After being warned time and again to change his ways from a heavenly being from beyond, Percy is about to experience some grave consequences for his actions.
In a series of tragic events, Percy faces humble circumstances after losing everything in a car accident — his family, job and home. Paralyzed from the waist down and confined to a wheelchair, he is forced to be homeless and live in the gritty world of misfits on Saint Street.
It is on Saint Street where Percy sees the light and changes his ways trough the examples of the most unlikely of souls. We soon discover that things aren't always what they seem and second chances and redemption just might be closer that we think.
Dove Review
This is a movie that offers hope to those who are going through rough times. A man named Percy (Mark Webb) is a workaholic. He doesn't heed a man named J.C.'s warning about not driving with his family at night after working a long day. An accident occurs that turns Percy's world upside down.
Percy winds up in a wheel chair and losing a lot of things which were important to him. Down and out, he comes across some homeless friends who reach out to him, and even reach out to one another with gifts given freely to each other, made possible by the generosity of others.
There is a surprise ending with a lot of neat things between the beginning and conclusion of the film. The themes of the movie include getting second chances, forgiveness, and making it a priority to spend quality family time. We are pleased to award this movie our "Dove Family-Approved" Seal for ages twelve plus. Give this one a watch and it will inspire you to appreciate what you have.
Info
Company:
Bridgestone Multimedia Group
Industry Rating:
Not Rated
Reviewer:
Edwin L. Carpenter