Madeas Witness Protection, Tyler Perrys
Theatrical Release:
June 29, 2012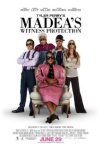 Synopsis
Tyler Perry returns as America's favorite brash, no-holds-barred grandma in Lionsgate's Madea's Witness Protection, an outrageous culture clash comedy that also stars Eugene Levy, Denise Richards and Doris Roberts.
For years, George Needleman (Levy), the gentle CFO of a Wall Street investment bank, has been living with his head in the clouds. His frustrated second wife, Kate (Richards), has reached her limit taking care of his senile mother, Barbara (Roberts). His teenage daughter, Cindy (Danielle Campbell), is spoiled beyond hope and his seven-year-old son, Howie (Devan Leos), wishes his father were around more. But George is finally forced to wake up when he learns that his firm, Lockwise Industries, has been operating a mob-backed Ponzi scheme – and that he's been set up as the fall guy.
Facing criminal charges and death threats from the mob, George and his entire family are put under witness protection in the safest place that Brian (Perry), a federal prosecutor from Atlanta, can think of…
His Aunt Madea's house down South.
As a result, Madea and her live-in brother, Uncle Joe (Perry), find themselves managing a completely dysfunctional family from Connecticut. But as George tries to solve the mystery behind Lockwise's finances, Madea whips the Needlemans into shape using her hilarious brand of tough love. And together, they realize they just might have what it takes to unite George's family, outsmart the mob and change everyone's lives for the better.
Dove Review
When the CFO of a shell company finds out that his boss set him up to take the fall for laundering money for the mob, he joins the witness protection program (sort of) to stay alive long enough to help the prosecutes build a case. Madea takes the family in and some unexpected surprises come out. Without plot spoiling, it turns out everyone is related.
As with most of Tyler Perry's films, this one has excessive language preventing us from awarding our Dove Seal to the pic. It's a shame too because there are some good lessons in the movie such as a family spending quality time together and forgiving one's past.
Content Description
Language:
H-64; OG/OMG-9; Good Lord-9; D-1 Beatch-15; A-14; Whore-3; Go to H*ll-3; Slang for male genitalia-3