Are There French Fries In Heaven? (Illustrated)
Book Release:
July 13, 2012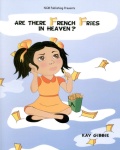 Synopsis
Are There French Fries in Heaven is about six-year-old Kia who loves French fries. Join her as she searches for the answer to this delicious question, eventually discovering that grandma holds the key. The response makes Kia salivate and teaches her a lesson about overeating.
Dove Review
Kia LOVES French fries. She doesn't just like them, she LOVES them! And you will love this book! Who hasn't known someone who knows how to ask a lot of questions? Kia is that person in this book. She thinks about French fries all the time, even when attending church. She asks her brother Colin, her mom and dad, and finally her grandmother, "Are there French Fries in Heaven?" She likes her grandma's answer but you will have to read the book to learn it for yourself.
Although it is hard theologically to prove this point, if heaven makes all its inhabitants happy, then who knows? Maybe eating fat-free French fries in heaven will be what makes it a little bit of heaven for some! This is a delightful book and will fuel the imagination. We are happy to award this book our Dove "Family-Approved" Seal for all ages. It is richly illustrated and will appeal to many kids. Get your copy soon! But be warned, you just might get a craving for French fries while reading it.
Info
Company:
NCM Publishing Company
Reviewer:
Edwin L. Carpenter