Pray 3D: The Storm
DVD Release:
September 4, 2012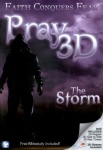 Synopsis
Autumn leaves gently rustle in the October breeze as the days shorten, and the nights grow darker. It's been three peaceful years since evil walked the streets in the sleepy town of Smithfield. Laurie Curtis and her family have finally put the nightmare of the mysterious masked villain behind them, and life has returned to normal…until tonight.
While a raging storm is heading toward them, Laurie and her husband, Michael, attempt to enjoy a quiet dinner out with friends. At home, their favorite teenage babysitter keeps an eye on their precious children. The growing storm isn't the only thing that threatens the safety of their home tonight. The sinister shape is back! The storm cuts off all access to the infamous Curtis house, and now the race is on to rescue the children and their sitter! Will faith conquer fear once again?
Dove Review
For those who love suspense stories, this is the one for you. In "Pray 3" a storm isolates the Curtis' family home and as Mom and Dad are out and a babysitter watches the children, a man in a mask watches the people in the home and then makes plans to capture them.
For those who don't enjoy mysteries or jump scenes, this may not be the one for you. But for those who do, enjoy the film soon! In one nice scene which takes place during a storm a woman shares with a frightened child that she always read her favorite Bible verse as a child when she was scared. We recommend this one for ages twelve plus and award it our Dove Seal.
Info
Company:
Bridgestone Multimedia Group
Writer:
Matt & Amy Mitchell, Tiaan & April Kruger
Industry Rating:
Not Rated
Reviewer:
Edwin L. Carpenter