Dr. Martin Luther King, Jr.: A Historical Perspective
DVD Release:
December 13, 2002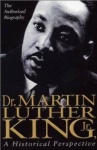 Synopsis
This revealing documentary uses rare and largely unseen film footage and photographs to explore the life and legacy of one of the most influential Americans of the 20th Century.
Dove Review
This is must-see documentary. It perfectly enlightens the viewer of the historical implications of the life of Dr. Martin Luther King Jr. during the 1950s and 1960s. We see through black and white archive films and photographs and from the sounds of the past via audio recordings the framework which made up the turbulent and changing times as the Civil Rights movement headed into high gear, despite violence and threats and reversals of fortune. King's guidance in peaceful resistance and civil disobedience, led to the progress of civil rights today and one might be shocked to learn that he was stabbed and jailed on several occasions before being assassinated in April 1968. In fact, he had predicted his own death, saying he did not believe he would live to be 40 years old – he was 39 when he died.
The archive photos and footage includes violent but brief scenes of police hosing down people with strong currents of water, using "Billy" clubs and throwing people to the ground. A brief glimpse of a few black men hanging is not gratuitous but might make some uncomfortable. Still, the archived footage reveals things the way they were, including the riots and fires and suffering. This documentary is well worth taking the hour long length to watch. It gives the viewer a well-rounded portrait of a man who helped change Washington, Alabama and indeed an entire nation. We are pleased to award our Dove Seal to this DVD for ages twelve plus. Make time and watch it soon. You won't regret the time spent.
Info
Company:
Xenon Entertainment
Industry Rating:
Not Rated
Reviewer:
Edwin L. Carpenter