Al Green: Everythings Gonna Be Alright
DVD Release:
October 29, 2004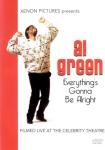 Synopsis
Captured live at the Celebrity Theater in Anaheim, CA, Rev. Al Green gives one of his most uplifting and driving performances.
Dove Review
Al Green is talented, charismatic and an energetic performer and it all shows in this fantastic DVD of one of his concerts. Al praises the Lord in song and in testimony and greets the audience too. He is terrific in interacting with them and he puts one hundred percent into his songs. He hops and even runs back and forth on stage. He shares his testimony and speaks of meeting the Lord in 1973. He is not shy in the least. The L.A. Mass Choir also joins in at one point for some more energetic and high power praise songs.
I found this to be an inspiring and energetic DVD. A few of the songs include "Everything's Gonna Be Alright", "Amazing Grace", and "Jesus Will Fix It". We gladly award this DVD our Dove Seal for all ages in addition to awarding it five Doves, which is our highest rating. Watch and listen soon. As Al says during an interlude, "Clap your hands for Jesus!"
Info
Company:
Xenon Entertainment
Reviewer:
Edwin L. Carpenter