Count It All Joy
DVD Release:
November 13, 2012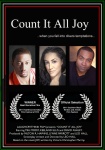 Synopsis
What would you do if you were raped and left to die? What would you do if someone you love pressured you to do something that goes against your beliefs? How strongly would you stand on God's word for direction? Or would you? This is one woman's story.
Dove Review
This movie contains a strong faith message which will appeal to many people. Anya (Mia Mossy) is an attractive and young African American woman who is a supervisor at her job. She loves a man named Braxton (David Ashley) but they are having issues as they look ahead with wedding plans.
There is a strong emphasis on sex, with a man pressuring a woman to sleep with him and telling her that if she loves him she would do so. Also, a relative of the woman, another young woman, admits to sleeping with a man she is dating. In addition, although not seen, a woman is raped and the beginning of the scene shows the man overtaking the woman. However, although this one isn't appropriate for the entire family, it does contain a strong faith message in Christ and shows people seeking godly counsel and praying. A woman has a decision to make following the rape, whether to have the child she is pregnant with or to abort it as her boyfriend wants her to. The strong faith message in this one, and counting life's trials as joy because of the good God intends, are the reasons we recommend this for our Faith Based Seal. The movie makes it clear that good things can come from bad if a person keeps the faith!
Info
Industry Rating:
Not Rated
Reviewer:
Edwin L. Carpenter