Leave It At The Altar
DVD Release:
August 21, 2012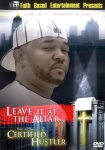 Synopsis
Leave it at the Altar is a story about Bishop Delaney who turns his life around with the help of a Christian nurse.
Dove Review
This film illustrates the fact that a life can be changed by God's grace, even when it doesn't start out on the right track.
Bishop Delaney's mother "turned tricks" to support her drug habit. Bishop was left alone a lot as a child, growing up in "the hood", where it wasn't safe for the adults let alone the kids. His mother died at a young age.
As a young man Bishop becomes involved with the world of drugs, keeping a supply going to local customers and living a wealthy lifestyle. Yet he meets a Christian girl, the daughter of a fiery but compassionate pastor. The young couple yields to sexual temptation but the pastor's daughter weeps and cries in repentance and Bishop receives counseling from her pastor/father. God turns his life around and this redemptive theme gives the story a solid ending. We are pleased to award this movie our Dove Seal for ages twelve plus. This one will remind the viewer that God can change things.
Info
Industry Rating:
Not Rated
Starring:
Mr C.L.
,
Bishop Strong
,
Mouth Peace
,
Elizabeth Brown
,
Cinnamon Leeanne
,
Eric Newell
,
Gaulien Smith
,
Lasonda Buck
,
Alisa Venus
,
Christine Carmichael
,
Ronnie Luse
,
Michael Denk
,
Ken Hughes
,
Joan Boudro
,
Gigalo Jackson
,
Emmette Young
,
Lady BJ
,
Sherman Norton
,
Thaddeus Mannn
,
Sylvia Sharp
,
V'Do Verando
,
Tyra Lea
,
Terita Moore
,
Shawn Smith
,
Bebraska Howard
,
Felix Robinson
, Charles Stringer and Brendel Stephan Banks
Reviewer:
Edwin L. Carpenter