The Smurfs and the Magic Flute
DVD Release:
August 14, 2012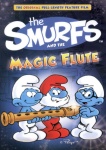 Synopsis
In The Smurfs and the Magic Flute, a magical flute is just what Court Jester Peewit needs to play delightful tunes that make everyone in the kingdom dance — until the dancing turns dangerous. Sir Johan tries in vain to recover the musical instrument, but a thief named McCreep beats him to it, intending to use the flute to steal gold from the King's subjects. It's the Smurfs to the rescue when Papa Smurf devises a plan to create a second magical flute, and Peewit and Sir Johan go on a great adventure to find McCreep, win the musical dual and save the kingdom!
Dove Review
The Smurfs in their very own movie. What's not to like? When a magical flute is discovered it brings a lot of fun as people just can't help but dance in the kingdom, including the king himself; whenever the flute is played. But a thief steals the flute and wears people out dancing at Inns and various places and he robs them. Peewit and Sir Johan manage to be sent to the land of the Smurfs in order to find a solution. They wind up with another magical flute and a showdown soon takes place with the gold and wealth of the kingdom at stake.
This one includes lively music and great animation and kids will love it. We are happy to award our Dove "Family-Approved" Seal to this movie.
Info
Reviewer:
Edwin L. Carpenter