Between Heaven and Ground Zero
DVD Release:
August 28, 2012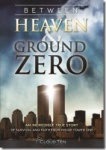 Synopsis
Inspired by the popular and emotional book, BETWEEN Heaven & Ground Zero, this documentary focuses on Leslie Haskin's harrowing first hand account of being one of the last people to leave one of the crumbling twin towers and her remarkable journey of faith afterward.
Dove Review
Between Heaven & Ground Zero is a gripping documentary with dramatizations interspersed throughout DVD. Prominently featured is actual video footage shot before, during and after the twin towers fell. The dramatizations are meant to instill in the audience the sense of fear, anger and loss felt by those who witnessed the events first hand. This is a powerful presentation of an event that should be remembered and also deals with the questions of faith that were felt by those involved. Questions like "how can a loving God allow tragedy to happen" are openly discussed.
This is a stirring film and will invoke a desire from its audience to discuss these issues and questions. Due to the graphic imagery and faith filled messages portrayed we are pleased to award this documentary our Dove "Faith-Based" Seal with a caution for violence.
Content Description
Violence:
Violent images of the explosions at the World Trade Center on 9/11 including one scene of bodies falling as desperate people jumped to their deaths; Bloody knuckles on a man during a dramatization of those in the aftermath; Disturbing sequences of dialog as people discuss what they saw including a woman who was burned and had skin falling from her hands; Man carries a woman who has been badly burned; A woman is covered in blood splatter
Violence:
Violent images of the explosions at the World Trade Center on 9/11 including one scene of bodies falling as desperate people jumped to their deaths; Bloody knuckles on a man during a dramatization of those in the aftermath; Disturbing sequences of dialog as people discuss what they saw including a woman who was burned and had skin falling from her hands; Man carries a woman who has been badly burned; A woman is covered in blood splatter
Info
Company:
Cloud Ten Pictures