Sugar Mommas
DVD Release:
December 4, 2012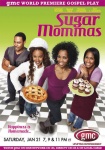 Synopsis
Sisters Sheila (Terri J. Vaughn, Meet the Browns) and Lynn (Vanessa Williams, Soul Food) have lived very different lives, but they're both at a crossroads and need a change. With little in common except their love for sweets, they partner with their close friend Tommi (Rachel True, Half & Half) to open a bakery. It seems their recipe for success is complete, but these three strong, independent women are as distinct as the cupcake flavors they invent. New challenges, old rivalries and even a chance at love lead these ladies on a journey of self-awareness, affirmation and hope as they begin the next chapter in their lives. Inspiring, heart-warming and hilarious, Sugar Mommas is the perfect treat.
Dove Review
This movie is a sweet delight! It is funny and imaginative and focuses on how God may not show up early but he's always on time. The story is about two sisters and their friend and they run a business together, a bakery known as "Sugar Mommas".
All three battle various problems. Lynn, Sheila's older sister, is dating a man half her age. She is forty five and he is twenty two. Her ex-husband Quentin shows up and wants to get back with her. Sheila wants to have a baby and is considering In-vitro fertilization as she is single. But she would like to meet a man. Her friend Tommi is so wrapped up with the business that her husband Derek is feeling neglected.
The movie features some funny scenes including the one in which Lynn is about to go out with the twenty-two-year-old Hank and her sister Sheila tells her to "Enjoy the prom." The film also scores a nice point when it mentions that our lives follow God's blueprint and that He shapes the events and brings people into our lives for a purpose. Enjoy the sweet humor of "Sugar Mommas" today!
Content Description
Sex:
Kissing by a couple; a man tells a woman she is sexy; a single woman considers an In-vitro procedure to have a baby; a woman who would like to date lists the obstacles and mentions that some men are gay; a woman says she doesn't know where her husband is in the house or who he is with or what he is doing with whoever.
Info
Company:
Image Entertainment
Reviewer:
Edwin L. Carpenter