Chilly Christmas
DVD Release:
November 6, 2012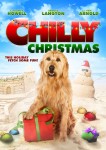 Synopsis
Eleven year-old Bobby Cole and his dog Chilly are best friends, living happily in their Southern California beach house. But when Bobby's father Patrick (C. Thomas Howell), a single parent and police detective, accepts a job in New York City, they must find Chilly a new home. In an attempt to show Patrick that Chilly can be a city dog, Bobby and his pals teach him the indoor ways of living, but Bobby's dad is not convinced. It's not until Christmas Eve when nefarious dog thief Mr. Quarterman (Tom Arnold) breaks into the family home that Chilly and Bobby can put their new training to the test. Can they band together and save Christmas – and Chilly's future with the family?
Dove Review
Here is a DVD with a fun holiday theme. Christmas on the beach can be an adventure but make sure and catch the criminals first! Here is a family story about a police detective and single parent who gives his son Bobby a puppy for a Christmas gift. The puppy is named Chilly Christmas by the boy for his "chilly" tongue. A year later he is fully grown and seems to have a knack for getting into things. When Bobby's dad is offered a promotion with the FBI it means a move to New York and life in a high rise apartment. Chilly will have to stay behind unless Bobby and his friends can train him to be an inside dog.
When some thieves become interested in Chilly Christmas, the adventure reaches new proportions. Due to one utterance of language we are recommending this movie for ages twelve and above but parents should consult the content listing below. Some parents will be fine with kids ages eight and up watching the movie. Bring a little "Chilly Christmas" into your life soon!
Info
Company:
Anchor Bay Entertainment
Industry Rating:
Not Rated
Starring:
Tom Arnold
, C. Thomas Howell and Brooke Langton
Reviewer:
Edwin L. Carpenter