Elf-Man
DVD Release:
December 4, 2012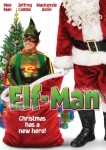 Synopsis
It's Christmas Eve and Ryan and Kasey Harper's Dad, Eric (Mackenzie Astin), is still at work on his newest invention: a solar energy computer chip. Grandma arrives with lots of presents just as Eric runs into town for the Christmas ham. But before he can get home, he is kidnapped by a bumbling gang of thieves (Jeffrey Combs) who plan to steal his new device! When Santa arrives that night to see the Harper home in disarray, he fulfills little Kasey's wish of an elf doll by leaving behind one of his elves ("Wee Man") to help find her Dad. As the robbers scheme to break into the house, the Harper family helps their new elf friend discover his true powers as superhero "ELF-MAN!" With time running out and the Harpers counting on him, ELF-MAN takes on the kidnappers in a heroic attempt to save Christmas in this fun-filled family adventure!
Dove Review
It's a bird, it's a plane, no, it's…Elf-Man! When an elf from the North Pole shows up due to a little girl's wish, he suddenly is placed into the position of being a hero. Some bad guys have kidnapped Ryan and Kasey's dad Eric (Mackenzie Astin) as they want to obtain a powerful chip from him. When a woman he invited to dinner, Amy, shows up and the kids and Grandma don't know where he is, they soon realize that he could be in serious trouble. Only the elf can help Eric but he gives up after a failed attempt. The kids believe in him and dub him "Elf-Man" and suddenly he learns to believe in himself and even…fly! His kryptonite is mistletoe which the head thief uses against him but if he can only hold on to his belief in himself, anything is still possible.
This adorable movie features themes of believing in one's self, love, and a belief in miracles when they are most needed. We are pleased to award our Dove "Family-Approved" Seal to this delightful DVD.
Info
Company:
Anchor Bay Entertainment
Reviewer:
Edwin L. Carpenter